O'Neill, Zanolli named Play Safe Turf & Track/NFHCA Division I National Players of the Week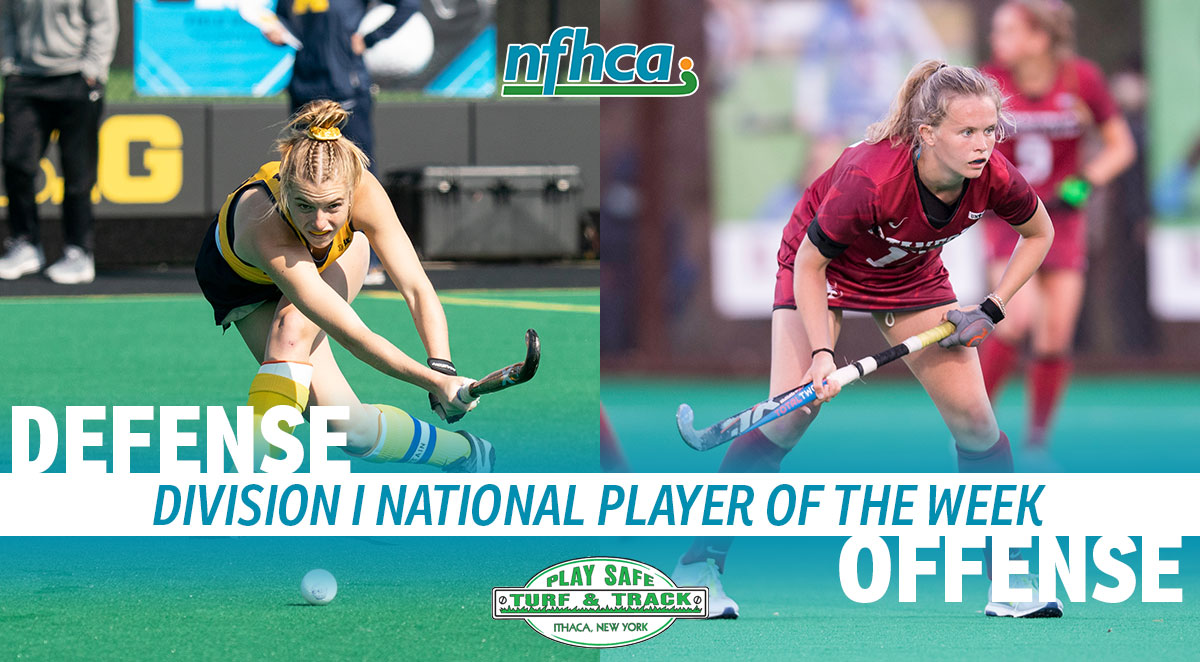 Play Safe Turf & Track/NFHCA Division I Defensive Player of the Week
Halle O'Neill, University of Michigan, Sr., Defender (Hummelstown, Pennsylvania)
O'Neill was named the Big Ten Tournament MVP last weekend as she led No. 2 University of Michigan to a Big Ten Tournament championship with impressive performances on both sides of the ball. O'Neill was part of defensive unit that secured two shutouts and allowed only one goal during the the Wolverine's three-game tournament. She notched the second and the fourth goal in the championship game against Ohio State University on Saturday.
Michigan's title win earned them automatic qualification in the NCAA Tournament.
Play Safe Turf & Track/NFHCA Division I Offensive Player of the Week
Corinne Zanolli, Stanford University, Sr., Forward (Newtown Square, Pennsylvania)
Zanolli was named the America East Championship Tournament's Most Outstanding Player for her performance last weekend. Zanolli had a hand in all five Cardinal goals in their championship tournament run. On Thursday against the University of Maine, she assisted on the first goal, then scored the game winner with less than three minutes left in the contest. In the title game on Saturday, Zanolli scored the first two goals then assisted on the game-winning, championship-sealing goal in the second overtime period against Monmouth University
Stanford's America East championship earned them automatic qualification in the NCAA Tournament. This is Zanolli's second Division I Offensive Player of the Year honor this season.
Play Safe Turf & Track
is the Official Sponsor of the collegiate 2020-2021 NFHCA Players of the Week Program.
Play Safe Turf & Track is well known as the best installation and repair company in the hockey business. They offer an FIH-certified product and FIH-certified build team.
The National Field Hockey Coaches Association (NFHCA) is a nonprofit organization serving field hockey coaches and supporters of the game from across the United States. The mission of the association is to champion, strengthen, and celebrate field hockey coaches and the game. The NFHCA strives to be the organization that every field hockey coach looks to for the resources to grow in the game and the inspiration to stay in the game.